Air Jordan 3 Doernbecher "Hugo" Is Inspired by the Seattle Seahawks
Jordan Brand and Nike have unveiled the Doernbecher Freestyle XIX collection. Amongst the six unique shoes designed by child patients from OHSU Doernbecher Children's Hospital, the Air Jordan 3 receives a new iteration in time for the holidays. Designed by Hugo "Juice" Covarrubias Molina, he took inspiration from the Seattle Seahawks' team colors in the navy blue and slime green. As a nod to the young boy's nickname, the slime green descends on the ankle as a nod to the designer. The hang-tag, which is plated with 24-carat gold, represents Juice's love for jewelry. The outsole of the shoes feature a powerful message that states, "It's okay to be different," a source of inspiration for Juice who copes with Klippel-Trenaunay syndrome. Carrying a navy leather upper with the slime green to accent the tongues, mudguard and semi-translucent outsole, the elephant print also highlights the toe and heel guard. The release of the Air Jordan 3 Doernbecher "Hugo" is slated to release on December 2 at select retailers and online at Nike for $210 USD.In other footwear news, here is an official look at the Nike KD 16 "All-Star."Click here to view full gallery at Hypebeast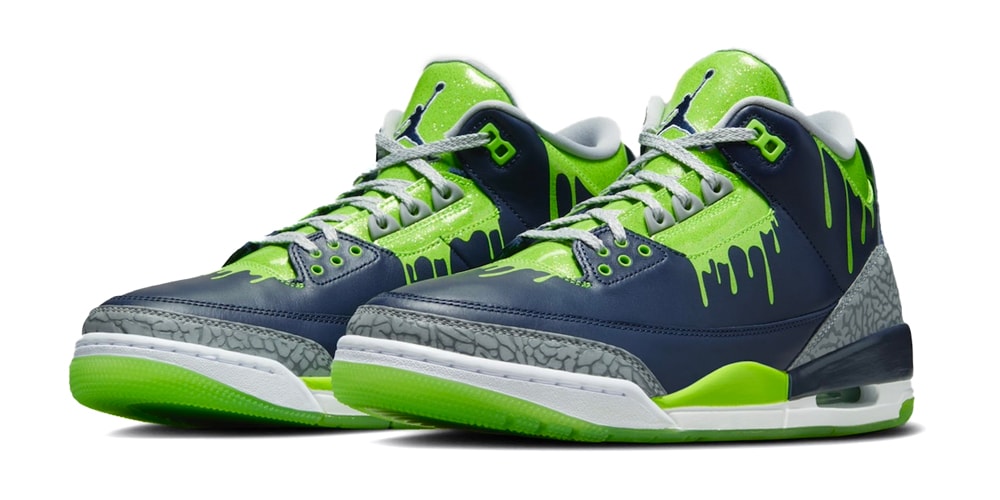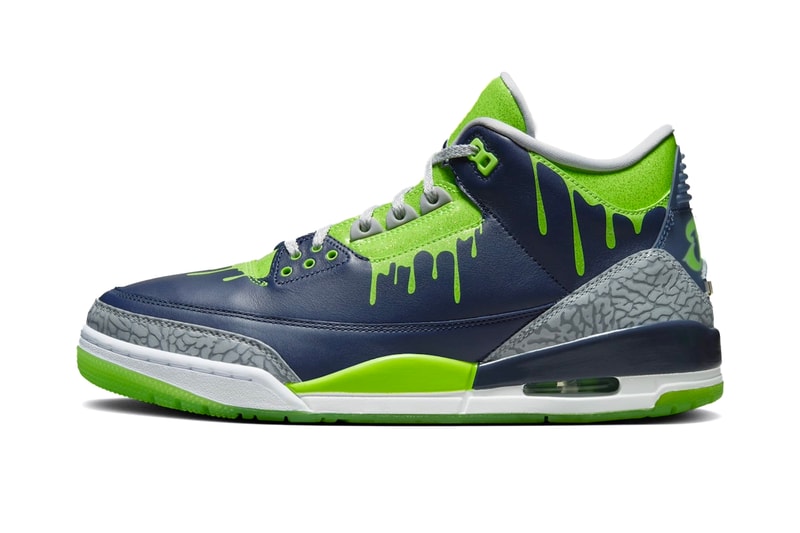 Jordan Brand and Nike have unveiled the Doernbecher Freestyle XIX collection. Amongst the six unique shoes designed by child patients from OHSU Doernbecher Children's Hospital, the Air Jordan 3 receives a new iteration in time for the holidays.
Designed by Hugo "Juice" Covarrubias Molina, he took inspiration from the Seattle Seahawks' team colors in the navy blue and slime green. As a nod to the young boy's nickname, the slime green descends on the ankle as a nod to the designer. The hang-tag, which is plated with 24-carat gold, represents Juice's love for jewelry. The outsole of the shoes feature a powerful message that states, "It's okay to be different," a source of inspiration for Juice who copes with Klippel-Trenaunay syndrome. Carrying a navy leather upper with the slime green to accent the tongues, mudguard and semi-translucent outsole, the elephant print also highlights the toe and heel guard.
The release of the Air Jordan 3 Doernbecher "Hugo" is slated to release on December 2 at select retailers and online at Nike for $210 USD.
In other footwear news, here is an official look at the Nike KD 16 "All-Star."
Click here to view full gallery at Hypebeast