Geoff Rowley and the Dime x Vans Skateboarding Rowley XLT for Hypebeast's Sole Mates
22 years ago, a young British skateboarder by the name of Geoff Rowley delivered an industry-shifting signature shoe: titled the Vans Rowley XLT, that would go on to earn the title of a classic. He was 25 years old at the time, and he had only been on the Vans team for three. But, with a high-profile reputation in the sport (thanks to his bounty of famous tricks, including his much-acclaimed 50-50 grind on the Staple Center's hubba ledge in 1999, and Thrasher Magazine's Skater of the Year trophy), he knew exactly what skaters needed on their feet.Rowley's decades-spanning influence over skateboarding is omnipresent: see his expansive portfolio of legendary skate videos (most notably, 2002's "Sorry" and "In Bloom"), his collection of highly-sought-after X Games medals, his invention of the "Rowley-Darkslide" trailing-foot trick, and even his animated appearance in the famous Tony Hawk Pro Skater games. To know skating is to know Geoff Rowley; and to know Geoff Rowley is to understand the importance that footwear has played in all of his successes.The now-47-year-old Rowley has long viewed sneakers as the most pivotal tool in the park (aside from the boards, of course). At Vans, his signature shoe line articulated this sentiment, and his for-skaters, by-a-skater design codes heavily resonated with the sport's global community. Even today, Rowley says he receives countless DMs about the shoe's significance in skaters' early days. Now, all these years later, Canadian skate label Dime linked with Vans and Rowley to reissue the design as the Dime x Vans Skateboarding Rowley XLT. Despite the updated moniker, it's a 100% preserved replica of the original shoe, arriving in the original navy colorway, as well as an exclusive Dime "Birch" tone. The design remains true to its 2001 predecessor, and it's a physical manifestation of Rowley's unwavering, generations-spanning effect on skating.Now, Rowley is here to discuss his more-than 20 years skating with Vans, his technical design process, and the importance of the Dime x Vans Skateboarding Rowley XLT's return two decades later, for Hypebeast's Sole Mates.What got you into sneakers?I grew up in the northwest of England. It's a sneaker culture place. All the football teams would wear specific trainers for games, and they would always want to look good. The trainers were the most important part of the outfit up in that part of the country. But skate shoes were what really got me into sneakers because they didn't look like anything else. You use them for an act, for skateboarding. It's what I did, and it's what I love to do. All the early skate shoes I grew up with and all of the skate brands that make skate shoes were what I was particularly stoked on. They didn't look like your traditional running shoes.Do you have a first memory with Vans specifically?The first pair of Vans that I had were a hand-me-down pair of Sk8-Hi's. They were too big for me, but they were going around in the skate community. One guy would buy them, aand then another guy would buy them from him and, and then I bought them from the next one. I had those, and I also had a pair of "Native" Vans, which are similarly built with a high top. But for those, the left shoe and the right shoe were different sizes. They were also slightly different designs because they were on sale in the skate shop, and I didn't have a lot of money. It was the only way for me to get a brand new pair of Vans. They didn't quite fit me, but they were my favorite first shoes that I had skated in. I felt like a badass wearing them.What was the hottest skate shoe at the time?There were two brands at the time that stood out in the space. There were just Vans and Airwalk. Your choice was either a heavy, thicker, paneled shoe or something that was more flexible and molded to your foot. But it was always cold, so it was difficult to wear them. You had to wear two pairs of socks a lot of the time where I grew up. But it was very clear. It was yin and yang, one brand or another brand. I bounced between both depending on how I was skating and what I needed."The skate shoes I grew up on weren't built for the kind of skating that we [do] now."What did you learn about the footwear space in the seven years before you went pro, and how did that information prepare you for your partnership with Vans?It was a hugely changing time. Skateboarding was growing, and so were action sports. As things like the Tony Hawk video games entered the industry, it began to grow substantially, and the footwear brands caught on. There was a lot more room to expand on the design of skate shoes to meet what we needed then. The skate shoes I grew up on weren't built for the kind of skating that we [do] now. They have to be more multi-dimensional. I was stoked. I've been riding for Vans since 1998, and I started to do signature shoes with them at that time. Whether they've been more core skate-driven or lifestyle-driven, they've all been made with the idea that they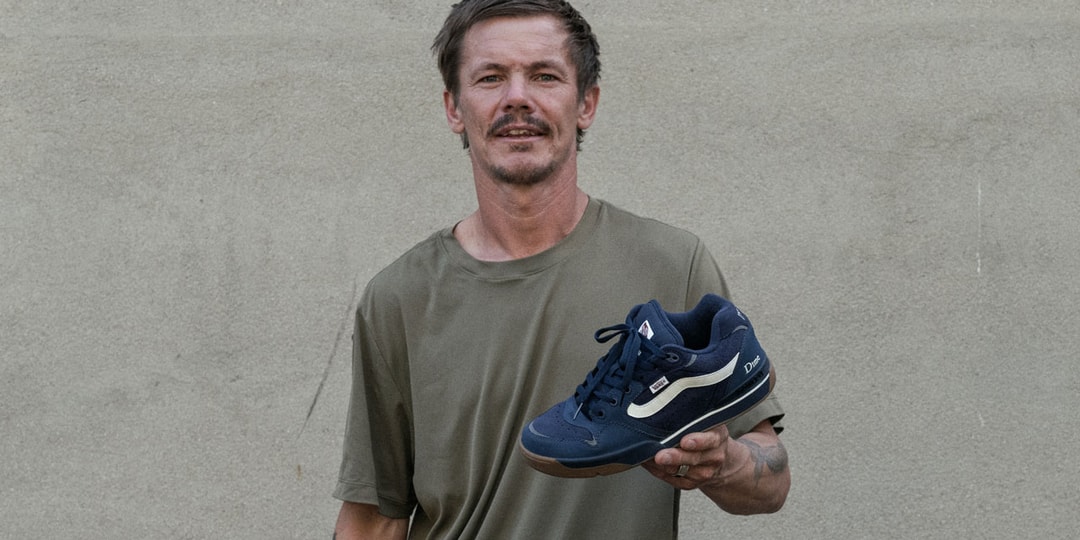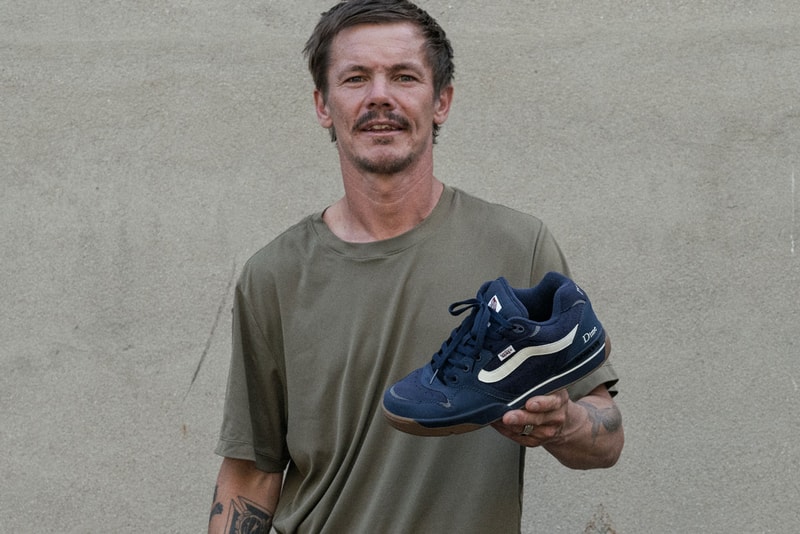 22 years ago, a young British skateboarder by the name of Geoff Rowley delivered an industry-shifting signature shoe: titled the Vans Rowley XLT, that would go on to earn the title of a classic. He was 25 years old at the time, and he had only been on the Vans team for three. But, with a high-profile reputation in the sport (thanks to his bounty of famous tricks, including his much-acclaimed 50-50 grind on the Staple Center's hubba ledge in 1999, and Thrasher Magazine's Skater of the Year trophy), he knew exactly what skaters needed on their feet.
Rowley's decades-spanning influence over skateboarding is omnipresent: see his expansive portfolio of legendary skate videos (most notably, 2002's "Sorry" and "In Bloom"), his collection of highly-sought-after X Games medals, his invention of the "Rowley-Darkslide" trailing-foot trick, and even his animated appearance in the famous Tony Hawk Pro Skater games. To know skating is to know Geoff Rowley; and to know Geoff Rowley is to understand the importance that footwear has played in all of his successes.
The now-47-year-old Rowley has long viewed sneakers as the most pivotal tool in the park (aside from the boards, of course). At Vans, his signature shoe line articulated this sentiment, and his for-skaters, by-a-skater design codes heavily resonated with the sport's global community. Even today, Rowley says he receives countless DMs about the shoe's significance in skaters' early days. Now, all these years later, Canadian skate label Dime linked with Vans and Rowley to reissue the design as the Dime x Vans Skateboarding Rowley XLT. Despite the updated moniker, it's a 100% preserved replica of the original shoe, arriving in the original navy colorway, as well as an exclusive Dime "Birch" tone. The design remains true to its 2001 predecessor, and it's a physical manifestation of Rowley's unwavering, generations-spanning effect on skating.
Now, Rowley is here to discuss his more-than 20 years skating with Vans, his technical design process, and the importance of the Dime x Vans Skateboarding Rowley XLT's return two decades later, for Hypebeast's Sole Mates.
What got you into sneakers?
I grew up in the northwest of England. It's a sneaker culture place. All the football teams would wear specific trainers for games, and they would always want to look good. The trainers were the most important part of the outfit up in that part of the country. But skate shoes were what really got me into sneakers because they didn't look like anything else. You use them for an act, for skateboarding. It's what I did, and it's what I love to do. All the early skate shoes I grew up with and all of the skate brands that make skate shoes were what I was particularly stoked on. They didn't look like your traditional running shoes.
Do you have a first memory with Vans specifically?
The first pair of Vans that I had were a hand-me-down pair of Sk8-Hi's. They were too big for me, but they were going around in the skate community. One guy would buy them, aand then another guy would buy them from him and, and then I bought them from the next one. I had those, and I also had a pair of "Native" Vans, which are similarly built with a high top. But for those, the left shoe and the right shoe were different sizes. They were also slightly different designs because they were on sale in the skate shop, and I didn't have a lot of money. It was the only way for me to get a brand new pair of Vans. They didn't quite fit me, but they were my favorite first shoes that I had skated in. I felt like a badass wearing them.
What was the hottest skate shoe at the time?
There were two brands at the time that stood out in the space. There were just Vans and Airwalk. Your choice was either a heavy, thicker, paneled shoe or something that was more flexible and molded to your foot. But it was always cold, so it was difficult to wear them. You had to wear two pairs of socks a lot of the time where I grew up. But it was very clear. It was yin and yang, one brand or another brand. I bounced between both depending on how I was skating and what I needed.
"The skate shoes I grew up on weren't built for the kind of skating that we [do] now."
What did you learn about the footwear space in the seven years before you went pro, and how did that information prepare you for your partnership with Vans?
It was a hugely changing time. Skateboarding was growing, and so were action sports. As things like the Tony Hawk video games entered the industry, it began to grow substantially, and the footwear brands caught on. There was a lot more room to expand on the design of skate shoes to meet what we needed then. The skate shoes I grew up on weren't built for the kind of skating that we [do] now. They have to be more multi-dimensional. I was stoked. I've been riding for Vans since 1998, and I started to do signature shoes with them at that time. Whether they've been more core skate-driven or lifestyle-driven, they've all been made with the idea that they need to be skatable, even if they exist outside of that parameter or if they're pushing that parameter's edge on.
The Rowley XLT was first released in 2001. What do you remember about the design process for that shoe? Was it different back then?
Yeah, it was hugely different. That was right at the beginning of skateboarding's resurgence. My first shoe came out in 1999. It was received really well. It was a vulcanized shoe. It was a little bit more padded, and it had all the original Vans DNA, which wasn't really in the skating products before that. It offered a little bit of diversion with their product. So that shoe helped get us back on track. Then, the XLT was my first opportunity to grow on the skating components from that first shoe and set the real first foundation. I remember consciously thinking, "It has to appeal to people that want to be exposed to how f*cking rad skateboarding is." They might not skate every day, but if they had those on and they stood on the board, it would feel right.
When I'm not skating, I don't want to wear running shoes. I want to wear skate brand stuff. So we'd set the vulcanized shoe back on track. That was what skaters wanted to use, and the XLT marked our first opportunity to expand on that idea. When I was skating or after I had been skating, I had something I could wear that I felt proud of. That's the XLT.
Do you remember what the process of designing the first signature shoe was like?
It was at my complete discretion. I drew it on a piece of paper with a friend who was a designer at Vans. We drew three different versions. I knew all of the paneling that I wanted so that you could properly skate with them. I was tired of breaking my laces, I was tired of going through one panel on the side of my shoes, and I was tired of my shoes blowing out. I wanted to fix all those problems.
My first signature vulcanized shoe had all of the Vans classics: side stripe, foxing stripe, waffle tread, and even the old Vans Skateboarding logo. So once it had been reestablished that this still worked for Vans, I knew that we were on the right track. I knew I didn't have to appease any designers in the building. I knew exactly what I wanted, and I knew exactly what the brand needed. That's what the XLT was. It pulls little things from archival Vans shoes, but it doesn't look like a classic Vans shoe. That was the goal. It was all about expanding on the traditions of the brand to find new opportunities for growth in skating.
The process was easy. At that time, the factories didn't really know how to make the shoes because no one was making skate shoes like that. All the specific thicknesses and weights involved in the shoe's construction needed to be broken down and rebuilt so that you could skate in them. They were also more comfortable and lighter than those before them. That was a big thing, and it still is a huge thing with footwear with me. And Vans trusted me.
What does Geoff Rowley look for in a skate shoe? Is there a specific performance feature that you value above all the others?
Absolutely. Board feel, control, and I love a shoe that form-fits to your foot. All the best brands in the world have something that undoubtedly does the job. And if it isn't broke, it doesn't need fixing. Vans' vulcanized shoe construction is perfect for skateboarding. It's stood the test of time. It's not my opinion. It's everybody's opinion at this point. I'm just thankful that we have product that we can actually skate.
"It's rad when a brand can come through something like skating or surfing and grow into an industry leader in that space."
How does it feel to have a shoe that's been referred to as a "classic" all these years later, and see it come back to a receptive audience?
It's humbling. I'm thankful that the Vans brand has always supported hardcore skateboarding and given us these types of opportunities. I'm stoked for skateboarding. It's rad when a brand can come through something like skating or surfing and grow into an industry leader in that space.
You're a collaborator but also a collector, one who owns a ton of rare Made-in-USA Vans. How do you approach building your collection?
I have a lot of shoes. There have been points where there have been hundreds of samples in my gallery. When I'm not skating or when I want to just feel pure, I put on a pair of Made-in-USA Vans. I have a handful of really impossible-to-find pairs, and I still have a few pairs of women's Made-in-USA Vans just sitting in boxes in my garage. I'll hand them to the right person. But I probably have five or six pairs of Made-in-USA Vans that I pull out every now and again. I freaking absolutely love them. I have an all-black pair of suede original Eras. I have a pair of leopard-print Old Skools with no side stripe on them. I have two pairs of white Old Skools, one with a side stripe and one with no side stripe. They made that shoe with no side stripe for a bit, but you had to find it because it was not readily available. I love the way they fit, and the rubber on them is like freaking glue. Granted, they're probably 20, 30 or 40-year-old pairs of shoes, so they don't hold up like they once did. I wear them more as relics and things to be adored.
What are your thoughts on Dime? How was it working with them, and what did they add to the lexicon of your signature shoe?
It's been easy, man. I love what those guys do. There's always an element of fun to the way that they market and the way that they deliver their brand to the world. It always comes back to skating. It never feels so streetwear or so lifestyle. It's removed. It always feels like it comes from skaters on their own ground, in their own scene. It transcends. All the events that they've done, like the Dime Glory Challenges, have been fun-as-hell to watch. They have an open mind, and we had a blast doing all this stuff with them.
How does it feel to have a brand like Dime, one of today's standout skate-meets-streetwear labels, love and respect your shoe enough that they wanted to bring it back out?
It's flattering. I wouldn't want to do something like this with a brand that isn't as connected with the skating community as Dime is. It wouldn't appeal to me, but the fact that they wanted to do this with a shoe that came out over 20 years ago. I think it's a good deal. And when you work with a brand that's so creative on the marketing side of things, and you mix that with a huge business that's done a lot of creative things over the years, it's the best-case scenario.
It's trippy to hear them all say, "Those were my first skate shoes. I had a pair of those shoes in high school." All the stories that go behind these shoes are crazy. I get DMed like crazy. I post pictures about everyone's stories and the relationships that they have with that shoe. It's things like, "That was the first shoe I did a kick flip in." The Dime guys are saying those kinds of things. It means something to me personally.
"I think what's special about Vans is that the brand listens to its athletes, and it was clever enough to know when to get out of the way and let the culture do its thing."
Is there one story that someone told you about wearing your shoes that has stuck out to you the most?
There are so many. People will tell me they've had five pairs of those shoes, or that they got laid for the first time wearing those shoes. Everything you can think of. It's wild.
It's rare that you'll see someone have a two-decade-long partnership with a brand. What makes Vans such a special company for you?
They support good skateboarding. They always have, and they didn't get in the middle of it. They allowed me to be what I wanted to be as a professional skateboarder, and they supported it without setting up too many roadblocks. I mean, granted, it's a big business. There are moments where it's easier, and there are times when it's difficult because employees come and go. But, in all honesty, the whole way through, Vans, as a brand, has always supported our industry and the youth culture that surrounds it. They've sponsored amateur contests, pro contests, supported all their riders' personal projects, and a lot of times, it was for nothing in return. I think what's special about Vans is that the brand listens to its athletes, and it was clever enough to know when to get out of the way and let the culture do its thing.
Now more than 20 years in, how do you continue to innovate the skating footwear space? Do you find it harder to do that now than it was back then?
That's not for me to decide. That's for the future to decide. Right. When I was creating signature product for Vans, the style of skating was much different than it was today. So instead of someone going off of a 10-foot wall, they're now going off of 30-foot walls, 100-foot staircases, and so on. They need product for that. So the product needs to keep up with what the kids need to be able to push it to the next chapter. I look forward to seeing what that looks like, but the DNA is already written. So if the next generation of skating shoes has those foundational elements in there, it will win.
What does the future hold for you?
Getting gnarly on the skateboard. I love my skating more than ever. I'm in the best shape of my life. That's all as long as I can stay fit and not break my body up, which is a natural part of being a street skateboarder. There's a physicality to it that your average person will never understand. In fact, almost every person will never understand what it's like to smash yourself up all the time. But, we love it, and we do it with a smile. If you do it your whole life, you have to stay healthy. You have to stay fit. You have to listen to your body. That's what the future holds for me. I will try to stay in good shape so that I can skate my ass off. I will also try to be a good influence, and I'll try to help others with what I've learned along the path.
Why are sneakers important to you?
As a skateboarder, sneakers are one of our tools. If we don't have the right tools, we don't do the right job. It's a huge part of what I do. Honestly, I couldn't do what I do without those elements there, and I think that illustrates how important they are. My clothes don't matter that much. They don't affect how I skate. I could go out right now, wearing a pair of shorts and a tank top, and skate the same way as I would in some cargoes and a hoodie or three jackets. It makes no difference. The shoes and the board are everything. That's your control. That's your soccer ball, your basketball, your baseball. It's an element that you have to have. So, sneakers are everything.
Click here to view full gallery at Hypebeast