Tinker Hatfield's Nike Zoom Court Dragon Gets Decorated With Playful Swooshes
Tinker Hatfield is cemented into Nike's legacy as one of the brand's most accomplished designers. His portfolio consists of iconic Jordan Brand and Nike silhouettes, and this year he's expanding his range with a brand new Sportswear model: the Nike Zoom Court Dragon. The new model pulls inspiration from basketball and tennis models and it has just been revealed in a colorful new makeup with adventurously-styled Swooshes.A pure white hue takes charge on these low-slung kicks by covering the mesh side walls, toe boxes and the scaly textures that arrive on the forefoot. Crossover straps — which are influenced by the Nike Air Raid — start from the ankles and run down to the forefoot, and come with diamond-shaped embroidery that splits between neon green and red tones. Swooshes on the lateral and medial walls are backdropped in a stark black and come ornamented with sprinkle-like shapes and smiley faces that stand out in white. Down below, the bottoms are styled with white midsoles and come spruced up with toothy spikes that emerge from the treading and are divided into orange, green and blue sections.Peep the kicks in the gallery above and anticipate Nike to launch these in the coming weeks.For other sneaker-focused news, peep a closer look at the Nike Air Max 90 Terrascape "Sail." Click here to view full gallery at HYPEBEAST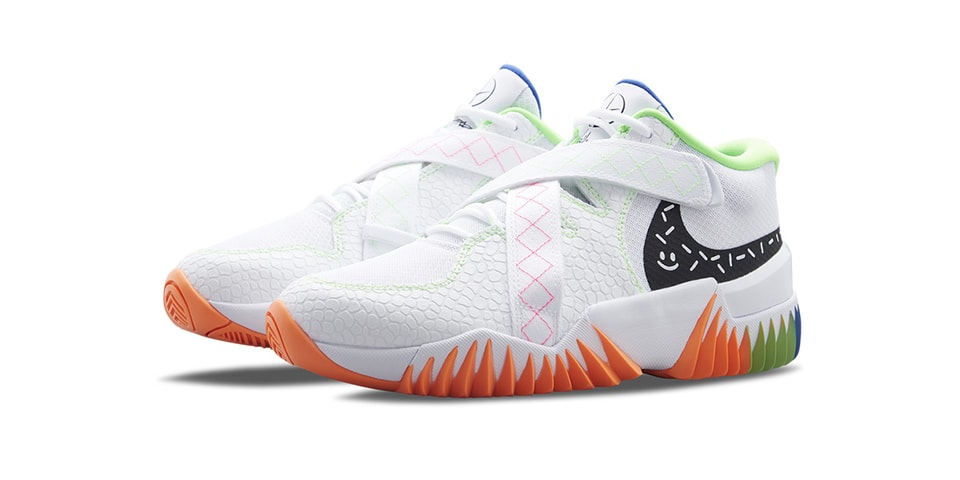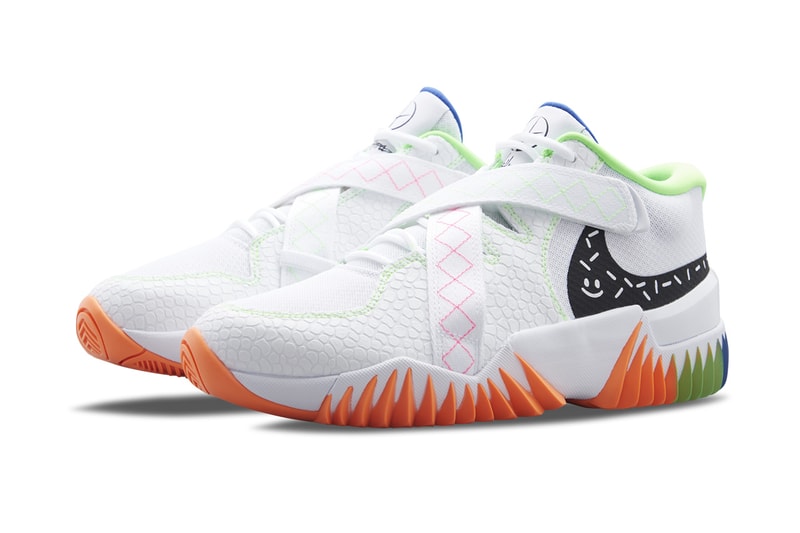 Tinker Hatfield is cemented into Nike's legacy as one of the brand's most accomplished designers. His portfolio consists of iconic Jordan Brand and Nike silhouettes, and this year he's expanding his range with a brand new Sportswear model: the Nike Zoom Court Dragon. The new model pulls inspiration from basketball and tennis models and it has just been revealed in a colorful new makeup with adventurously-styled Swooshes.
A pure white hue takes charge on these low-slung kicks by covering the mesh side walls, toe boxes and the scaly textures that arrive on the forefoot. Crossover straps — which are influenced by the Nike Air Raid — start from the ankles and run down to the forefoot, and come with diamond-shaped embroidery that splits between neon green and red tones. Swooshes on the lateral and medial walls are backdropped in a stark black and come ornamented with sprinkle-like shapes and smiley faces that stand out in white. Down below, the bottoms are styled with white midsoles and come spruced up with toothy spikes that emerge from the treading and are divided into orange, green and blue sections.
Peep the kicks in the gallery above and anticipate Nike to launch these in the coming weeks.
For other sneaker-focused news, peep a closer look at the Nike Air Max 90 Terrascape "Sail."
Click here to view full gallery at HYPEBEAST