On-Foot Look at Next Tom Sachs x NikeCraft General Purpose Shoe
One Nike's most notable artist collaborators, Tom Sachs, teamed up once again with the Swoosh this year. This time, him and Nike sought to tackle a problem that has plagued many of his releases with the brand in years past -- overwhelming demand and very limited supply. As hit releases such as 2017's Tom Sachs x NikeCraft Mars Yard Shoe 2.0 fetch thousands on secondhand markets, the duo set out to address its availability issue by introducing the NikeCraft General Purpose Shoe. Launching in a wide variety of colorways, seeing consistent restocks and being designed to be worn, not displayed, the NikeCraft General Purpose Shoe project has already begun putting a dent in the problem.Now, following an early look at the latest pair to surface from the duo, we're offered an on-foot breakdown of what to expect. Its mixed material upper gracefully shifts from one off-white hue to another as black contrasts it at the laces, rubber outsole and heel tab featuring Sachs' handwritten Nike logo. Yellow then lands on the Swooshes with green appearing at the tongue and heel's pull tabs. Lastly, the classic Nike logo with an orange Swoosh appears on the tongue to complete the look.Release for this upcoming Tom Sachs x NikeCraft General Purpose Shoe colorway is currently expected to take place in 2023 via Nike and select retailers worldwide at a price of $110 USD.In other footwear news, Jarritos has revealed its upcoming Nike SB Dunk Low, featuring its iconic orange and green alongside hemp overlays. Click here to view full gallery at Hypebeast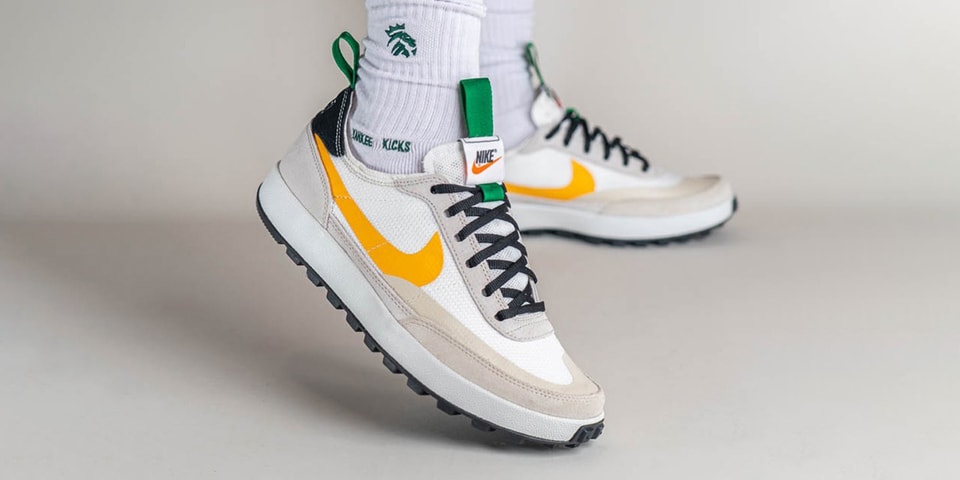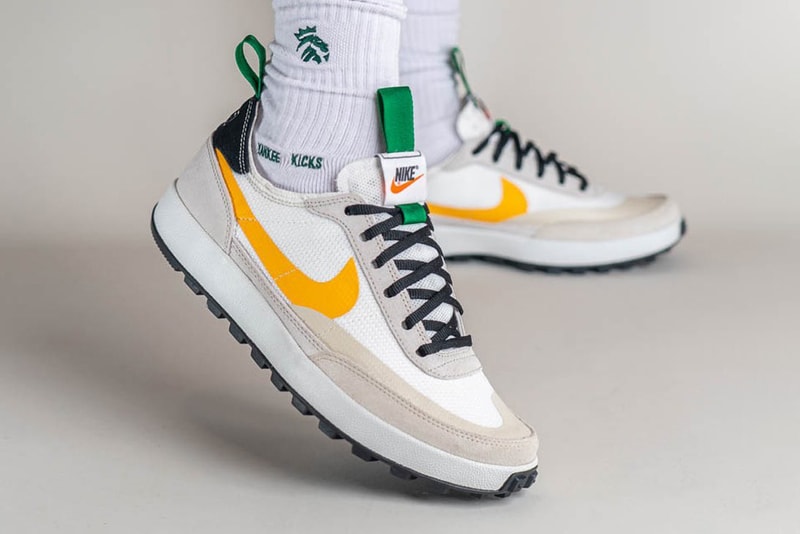 One Nike's most notable artist collaborators, Tom Sachs, teamed up once again with the Swoosh this year. This time, him and Nike sought to tackle a problem that has plagued many of his releases with the brand in years past -- overwhelming demand and very limited supply. As hit releases such as 2017's Tom Sachs x NikeCraft Mars Yard Shoe 2.0 fetch thousands on secondhand markets, the duo set out to address its availability issue by introducing the NikeCraft General Purpose Shoe. Launching in a wide variety of colorways, seeing consistent restocks and being designed to be worn, not displayed, the NikeCraft General Purpose Shoe project has already begun putting a dent in the problem.
Now, following an early look at the latest pair to surface from the duo, we're offered an on-foot breakdown of what to expect. Its mixed material upper gracefully shifts from one off-white hue to another as black contrasts it at the laces, rubber outsole and heel tab featuring Sachs' handwritten Nike logo. Yellow then lands on the Swooshes with green appearing at the tongue and heel's pull tabs. Lastly, the classic Nike logo with an orange Swoosh appears on the tongue to complete the look.
Release for this upcoming Tom Sachs x NikeCraft General Purpose Shoe colorway is currently expected to take place in 2023 via Nike and select retailers worldwide at a price of $110 USD.
In other footwear news, Jarritos has revealed its upcoming Nike SB Dunk Low, featuring its iconic orange and green alongside hemp overlays.
Click here to view full gallery at Hypebeast