Nike Drops Multicolor Air Max 95 in "Ironstone" Colorway
Nike dropped its latest Air Max 95 silhouette in an earthy "Ironstone" colorway, adding a mesh overlay to the upper for added texture. This new iteration features brown suede at the toe and a tiered gradient mesh overlay across the side panels, contrasted by yellow eyelets, crisp, white laces, and a chunky rubber sole. A yellow swoosh near the heel completes the set. The Air Max 95 came to life through designer Sergio Lozano who based the widely-popularized silhouette on the intricacies of human anatomy. The Ironstone set nods to this history, almost emulating fibers of human muscle through a hemp-like fabric wrapped around the upper. The striations across the side panels and eye stays pay homage to Lozano's earlier AM95 releases, forging a spine-like structure into the shoe's overall DNA. The textural accents help elevate the otherwise neutral color scheme — a refined departure from the signature neon colorway that's seen over 10 iterations in the past two decades. First released to overseas consumers, the "Ironstone" set is now available to U.S. consumers nationwide and on Nike's official website for $180 USD. In other sneaker news, Virgil Abloh teams up with Nike, lending Louis Vuitton's monogram on the new "Air Force 1" collaboration. Click here to view full gallery at HYPEBEAST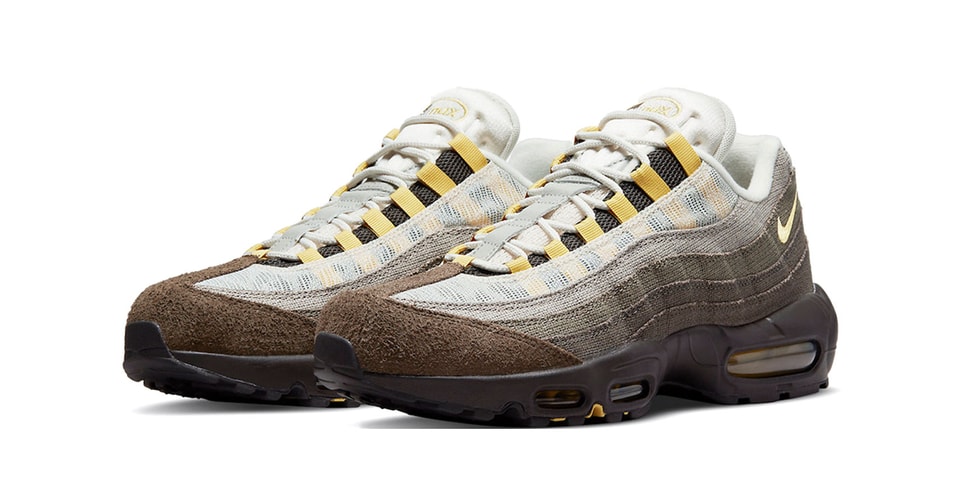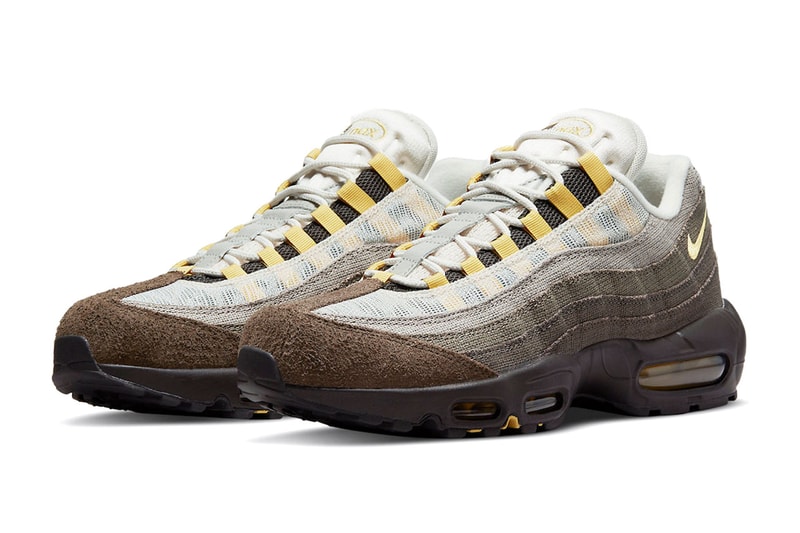 Nike dropped its latest Air Max 95 silhouette in an earthy "Ironstone" colorway, adding a mesh overlay to the upper for added texture.
This new iteration features brown suede at the toe and a tiered gradient mesh overlay across the side panels, contrasted by yellow eyelets, crisp, white laces, and a chunky rubber sole. A yellow swoosh near the heel completes the set.
The Air Max 95 came to life through designer Sergio Lozano who based the widely-popularized silhouette on the intricacies of human anatomy. The Ironstone set nods to this history, almost emulating fibers of human muscle through a hemp-like fabric wrapped around the upper.
The striations across the side panels and eye stays pay homage to Lozano's earlier AM95 releases, forging a spine-like structure into the shoe's overall DNA. The textural accents help elevate the otherwise neutral color scheme — a refined departure from the signature neon colorway that's seen over 10 iterations in the past two decades.
First released to overseas consumers, the "Ironstone" set is now available to U.S. consumers nationwide and on Nike's official website for $180 USD.
In other sneaker news, Virgil Abloh teams up with Nike, lending Louis Vuitton's monogram on the new "Air Force 1" collaboration.
Click here to view full gallery at HYPEBEAST