Maybe Tomorrow's Saucony "Better Together" Collab Is Inspired by Aesop's "The Tortoise and the Hare" Fable
Having built up a cult following for its snug-fitting, safety pin-adorned beanies as well as its playful trucker hats and graphic apparel pieces, streetwear brand Maybe Tomorrow is ready to expand its creative ventures and dive into its first footwear foray. The LA-based label — helmed by Mark Nguyen — has joined arms with Saucony to produce a two-pronged footwear capsule that's inspired by Aesop's classic fable "The Tortoise and the Hare."Fittingly titled the "Better Together" collection, the duo's new initiative communicates the concept that runners are actually stronger when they align and work towards a common goal — or in this case, the finish line. Maybe Tomorrow has elected to put its creative touch on two silhouettes: the 3D Grid Hurricane and the Shadow 6000. The former nods to the Tortoise character in the old tale as it features deep green textile uppers, soft green suede overlays and pebbled leather details atop the front and rear to signify a shell. The latter offering channels the look of the Hare and comes whipped up with a gray and white palette and comes crafted with textured laces, Saucony logos and heel overlays to mimic the animal's fur. "I wanted to create a world where running with one another was better than competing against each other. Nguyen said about the collaboration. "We took the classic story and rewrote it to where the two characters come to the realization that they are "better together", which my partner Ryan and I identified with. We found this story was the most metaphorical way to represent not just Saucony as a running brand, but the way we, as Maybe Tomorrow, came together as well."The capsule will be available for purchase at an exclusive event on November 19, through Maybe Tomorrow on November 25 and globally on December 1. The 3D Grid Hurricane will retail for $160 USD and the Shadow 6000 will be priced at $150 USD. View this post on Instagram A post shared by Saucony Originals (@sauconyoriginals)In other news, peep a look at Albino & Preto's recent Saucony collaboration. Click here to view full gallery at HYPEBEAST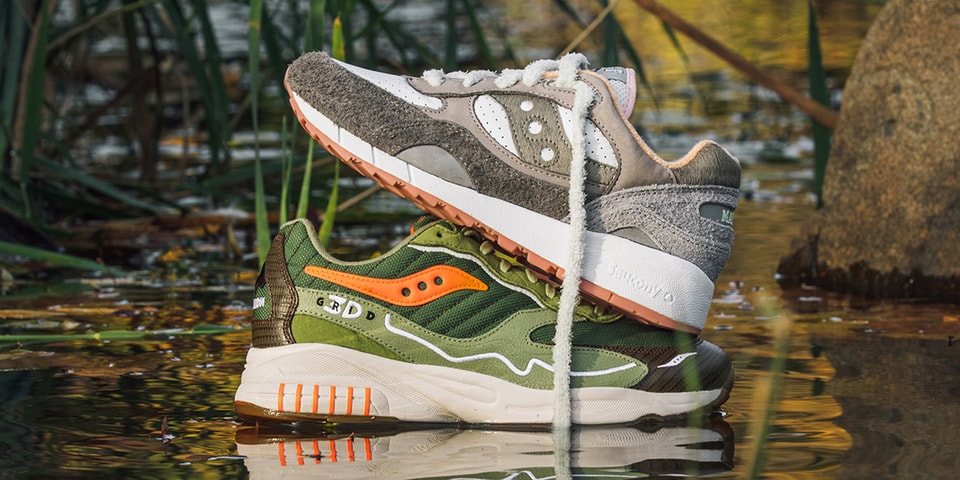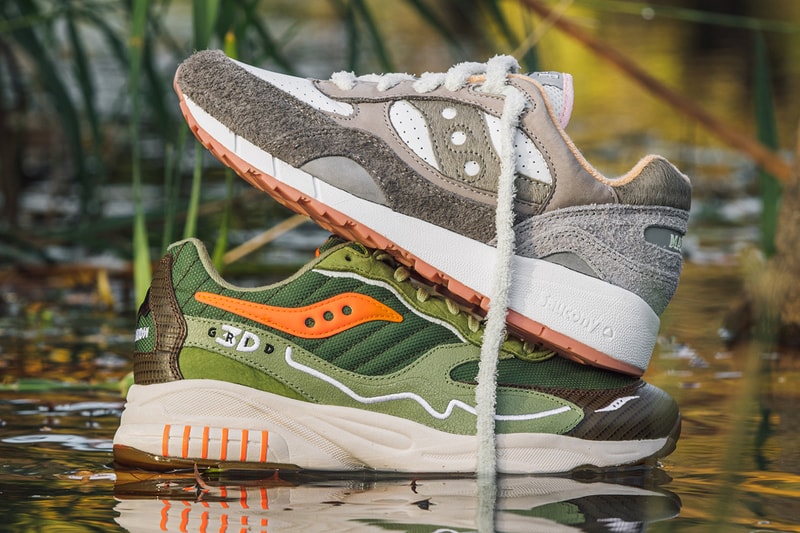 Having built up a cult following for its snug-fitting, safety pin-adorned beanies as well as its playful trucker hats and graphic apparel pieces, streetwear brand Maybe Tomorrow is ready to expand its creative ventures and dive into its first footwear foray. The LA-based label — helmed by Mark Nguyen — has joined arms with Saucony to produce a two-pronged footwear capsule that's inspired by Aesop's classic fable "The Tortoise and the Hare."
Fittingly titled the "Better Together" collection, the duo's new initiative communicates the concept that runners are actually stronger when they align and work towards a common goal — or in this case, the finish line. Maybe Tomorrow has elected to put its creative touch on two silhouettes: the 3D Grid Hurricane and the Shadow 6000. The former nods to the Tortoise character in the old tale as it features deep green textile uppers, soft green suede overlays and pebbled leather details atop the front and rear to signify a shell. The latter offering channels the look of the Hare and comes whipped up with a gray and white palette and comes crafted with textured laces, Saucony logos and heel overlays to mimic the animal's fur. "I wanted to create a world where running with one another was better than competing against each other. Nguyen said about the collaboration. "We took the classic story and rewrote it to where the two characters come to the realization that they are "better together", which my partner Ryan and I identified with. We found this story was the most metaphorical way to represent not just Saucony as a running brand, but the way we, as Maybe Tomorrow, came together as well."
The capsule will be available for purchase at an exclusive event on November 19, through Maybe Tomorrow on November 25 and globally on December 1. The 3D Grid Hurricane will retail for $160 USD and the Shadow 6000 will be priced at $150 USD.
 

View this post on Instagram

 
In other news, peep a look at Albino & Preto's recent Saucony collaboration.
Click here to view full gallery at HYPEBEAST