Helen Kirkum and Footpatrol Are Remaking ASICS Classics for Charity
Helen Kirkum's relationship with ASICS is one that's delivered so much good for the footwear industry and for the people it caters to, often coming together to benefit a charity of their choice. Now, London sneaker retailer Footpatrol is joining the mix, as the three come together to support YoungMinds UK -- the UK's leading mental health charity for young people -- with a highly-limited collaboration.Taking on heritage silhouettes like the GEL-LYTE III, GEL-KAYANO 5 OG, and GEL-NIMBUS, Kirkum applies her signature deconstruct-reconstruct aesthetic to a limited run of sneakers that each bear unique, hand-finished elements. From a mixture of textiles ranging from the sneaker's original suede bases to overlays and underlays of exposed open-pore mesh, jacquard knit, webbing, and various cut-outs of the ASICS logo on the mid-panel making a new, twisted formation, everything has been expertly reworked. The result, particularly for the GEL-LYTE III, is a sneaker that doubles as a wearable piece of art for the feet, while items like the GEL-NIMBUS are more industrial with plenty of exposed top-stitching and components that look as if they are loose, adding structure and 3D texture to the pair.Dual-branded Helen Kirkum x Footpatrol tags hit up all pairs, again placed on the shoe in the designer's DIY manner. With only 20 pairs made, it was looking difficult for those wanting a pair, and unfortunately, all have been snapped up via the Footpatrol raffle. However, those looking to find out more can see the production process here, and those wanting to help can find out more on Helen Kirkum's Instagram account or through YoungMinds UK.Elsewhere in the UK, Clints is about to drop a blacked-out sneaker for the winter season. Click here to view full gallery at Hypebeast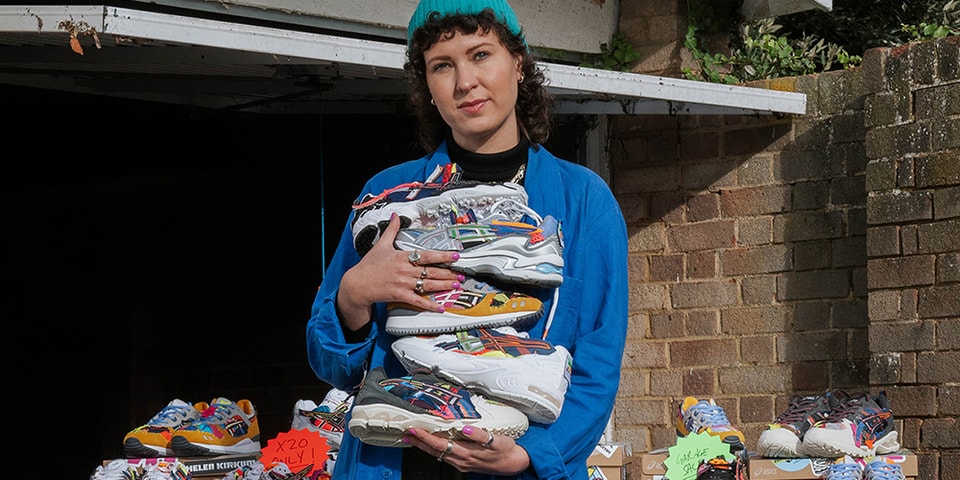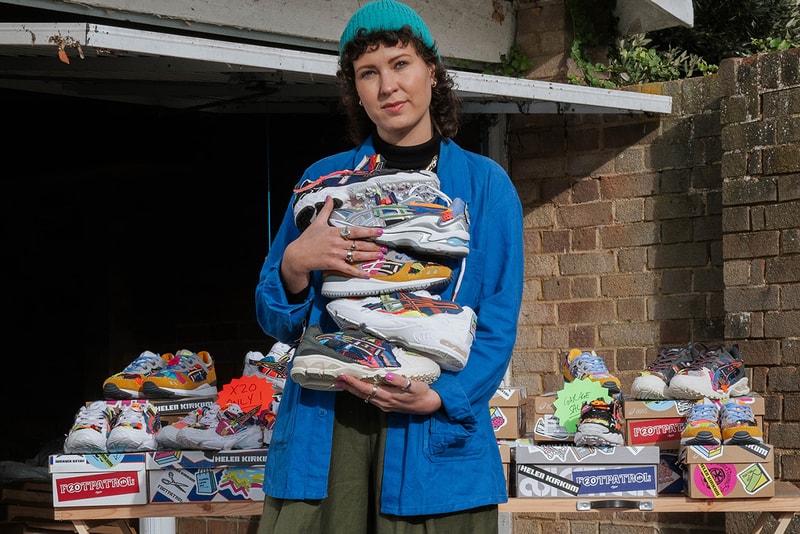 Helen Kirkum's relationship with ASICS is one that's delivered so much good for the footwear industry and for the people it caters to, often coming together to benefit a charity of their choice. Now, London sneaker retailer Footpatrol is joining the mix, as the three come together to support YoungMinds UK -- the UK's leading mental health charity for young people -- with a highly-limited collaboration.
Taking on heritage silhouettes like the GEL-LYTE III, GEL-KAYANO 5 OG, and GEL-NIMBUS, Kirkum applies her signature deconstruct-reconstruct aesthetic to a limited run of sneakers that each bear unique, hand-finished elements. From a mixture of textiles ranging from the sneaker's original suede bases to overlays and underlays of exposed open-pore mesh, jacquard knit, webbing, and various cut-outs of the ASICS logo on the mid-panel making a new, twisted formation, everything has been expertly reworked. The result, particularly for the GEL-LYTE III, is a sneaker that doubles as a wearable piece of art for the feet, while items like the GEL-NIMBUS are more industrial with plenty of exposed top-stitching and components that look as if they are loose, adding structure and 3D texture to the pair.
Dual-branded Helen Kirkum x Footpatrol tags hit up all pairs, again placed on the shoe in the designer's DIY manner. With only 20 pairs made, it was looking difficult for those wanting a pair, and unfortunately, all have been snapped up via the Footpatrol raffle. However, those looking to find out more can see the production process here, and those wanting to help can find out more on Helen Kirkum's Instagram account or through YoungMinds UK.
Elsewhere in the UK, Clints is about to drop a blacked-out sneaker for the winter season.
Click here to view full gallery at Hypebeast