Crocs' New Echo Silhouette Arrives in Realtree Camo
After releasing the all-new Echo Clog silhouette in minimalist "Stucco" and warm "Desert Grass" last month, Crocs now dresses the pairs in Realtree EDGE®, the "first camo pattern that allows you to blend in any close and long range." The patented hunting prints were previously used by Korean imprint thisisneverthat, which dressed a pair of Classic Clogs last year in a darker mix of brown bark and fir graphics. This time around, the Echo clogs are found in "Black" and "Bone" colorways featuring sparse yet detailed nature-inspired imagery across the uppers.According to Crocs, the Echo Clogs are "for those who want comfort without compromising their look," taking inspiration from sports while keeping streetwear at its core. The pairs feature fully-molded lightweight uppers which are water-friendly and buoyant. A rotating nylon velcro strap is secured on the heel and a LiteRide footbed is found within. Additional details include varying circular perforations on the toe box arriving alongside grooved contours.The Crocs Echo Clog Realtree Edge® is set to release via the Crocs App November 24 before releasing globally the next day.Elsewhere in footwear, Pyer Moss and Reebok present Experiment 4 Fury Trail in "Green Sushi." Click here to view full gallery at Hypebeast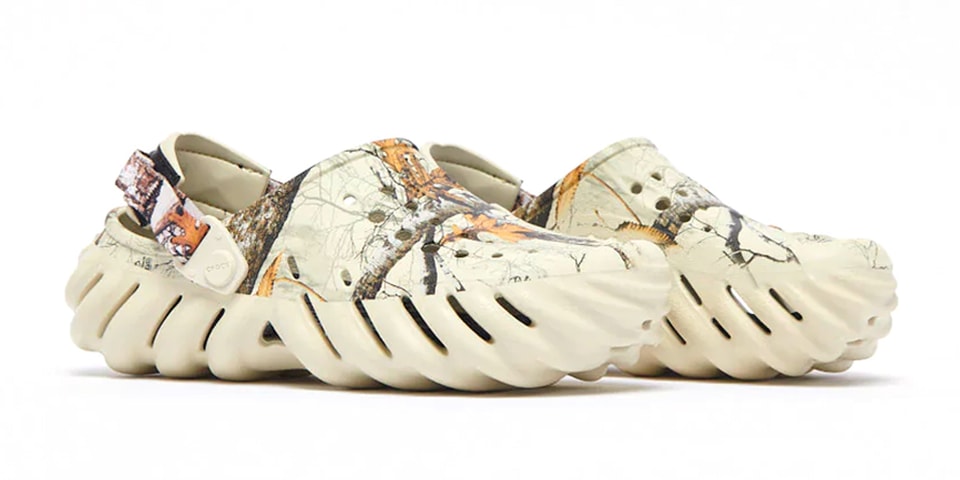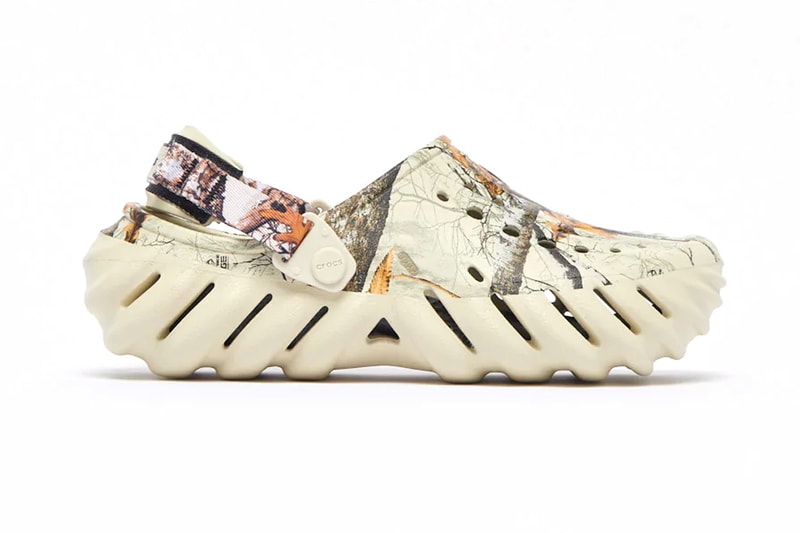 After releasing the all-new Echo Clog silhouette in minimalist "Stucco" and warm "Desert Grass" last month, Crocs now dresses the pairs in Realtree EDGE®, the "first camo pattern that allows you to blend in any close and long range." The patented hunting prints were previously used by Korean imprint thisisneverthat, which dressed a pair of Classic Clogs last year in a darker mix of brown bark and fir graphics. This time around, the Echo clogs are found in "Black" and "Bone" colorways featuring sparse yet detailed nature-inspired imagery across the uppers.
According to Crocs, the Echo Clogs are "for those who want comfort without compromising their look," taking inspiration from sports while keeping streetwear at its core. The pairs feature fully-molded lightweight uppers which are water-friendly and buoyant. A rotating nylon velcro strap is secured on the heel and a LiteRide footbed is found within. Additional details include varying circular perforations on the toe box arriving alongside grooved contours.
The Crocs Echo Clog Realtree Edge® is set to release via the Crocs App November 24 before releasing globally the next day.
Elsewhere in footwear, Pyer Moss and Reebok present Experiment 4 Fury Trail in "Green Sushi."
Click here to view full gallery at Hypebeast