Balenciaga Bathes Runner Sneaker in Fresh Shades
From the recent Winter 2022 black trash bag for $1,790 USD to the UNITED24 Charity T-Shirt in support of Ukraine, Demna's Balenciaga has no signs of slowing down. But in the effort of expanding its ever-evolving sneaker catalog, the Paris-based brand has unveiled a new colorway of its Runner Sneaker.With a gray mesh base, the chunky silhouette has been bathed in fresh hues of white, blue and yellow. The crisp hues appear across the shoe's overlaying panels with additional pops of silver. Other details on the shoe include a slightly-deconstructed ankle lining, a white midsole with yellow and gray detailing and a black sole. Finishing off the silhouette is a gray tongue with blue Balenciaga embroidery, sizing details on the front toe and Balenciaga branding/decals on the back.Outside of this new colorway, the Runner Sneaker has previously appeared in green/blue/gray/black, all-white, all-red, rainbow and more. Priced at $1,150 USD, the new colorway is available now online at Balenciaga.Check out the gallery above for a look at the shoe.In other footwear news, the Air Jordan 12 "Black Taxi" lets its yellow shine.  Click here to view full gallery at HYPEBEAST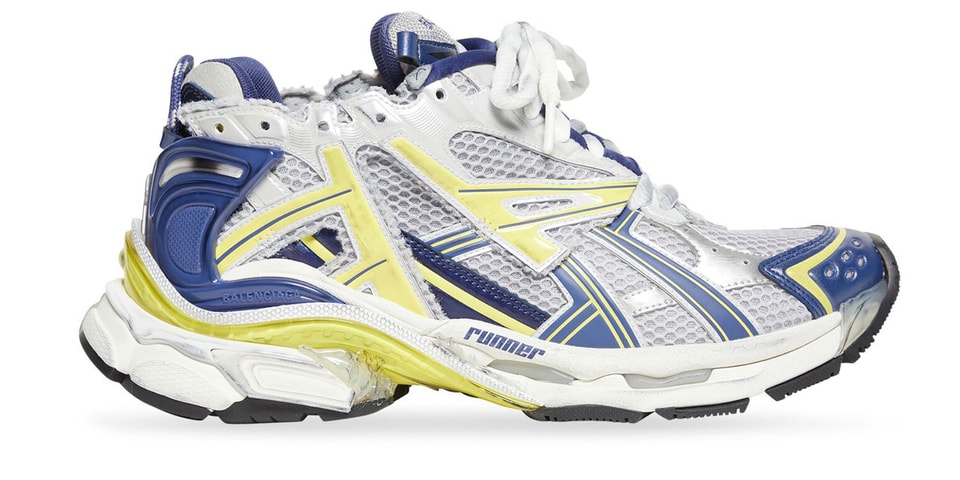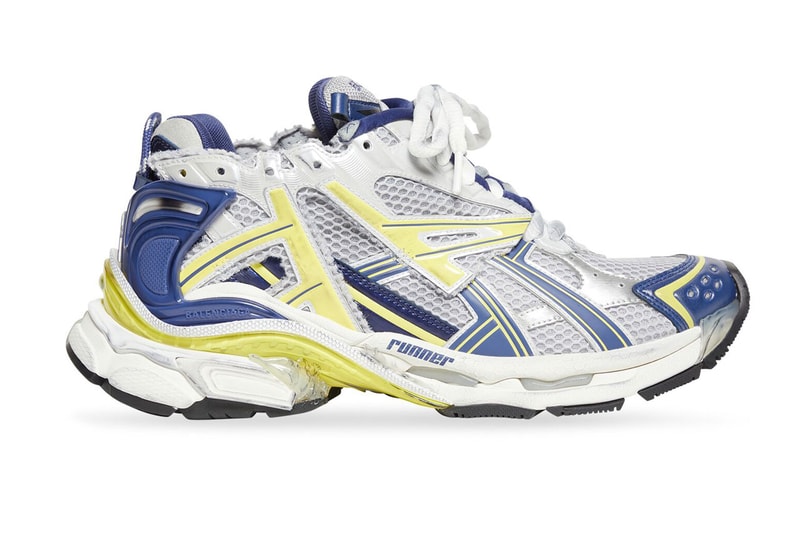 From the recent Winter 2022 black trash bag for $1,790 USD to the UNITED24 Charity T-Shirt in support of Ukraine, Demna's Balenciaga has no signs of slowing down. But in the effort of expanding its ever-evolving sneaker catalog, the Paris-based brand has unveiled a new colorway of its Runner Sneaker.
With a gray mesh base, the chunky silhouette has been bathed in fresh hues of white, blue and yellow. The crisp hues appear across the shoe's overlaying panels with additional pops of silver. Other details on the shoe include a slightly-deconstructed ankle lining, a white midsole with yellow and gray detailing and a black sole. Finishing off the silhouette is a gray tongue with blue Balenciaga embroidery, sizing details on the front toe and Balenciaga branding/decals on the back.
Outside of this new colorway, the Runner Sneaker has previously appeared in green/blue/gray/black, all-white, all-red, rainbow and more. Priced at $1,150 USD, the new colorway is available now online at Balenciaga.
Check out the gallery above for a look at the shoe.
In other footwear news, the Air Jordan 12 "Black Taxi" lets its yellow shine. 
Click here to view full gallery at HYPEBEAST